In the second part of social media marketing we are going to look at how to recognise influencers with artificially increased likes or followers. You are going to find out how to address and approach influencers and set up a collaboration. If you are interested in learning how to choose a quality influencer, keep reading. Let's get started!
The number of followers is not everything. 
We mentioned in the previous part of the series that number of followers is definitely not the most important when choosing your influencer. It is good to trust them but it is always better to double check. You can do that by looking at the quality of the influencer audience. 
How to recognise fake followers?
It should be mentioned that there is no account that wouldn't be untouched by fake profiles or bots. Even you have one or two 'Ahmeds' that follow your account (bots and fakes can have different names. Arabic names are pretty often but they can have Czech names as well). If you want to check your influencer, look at their number of followers. If you are seeing similar names and profile pictures while looking at their followers it is better not to approach the influencer.
What can a fake profile look like?
The profile name ends with a lot of numbers (eg. marie248843692) or it has just numbers
There is no profile photo or just one photo on the account which was posted only few minutes or hours ago
The account follows thousands of accounts
Have a look at the account of Kim Kardashianone of the most followed profiles on Instagram. Look for suspicious profiles. Once you go through a few of them you will know how they usually look and be wary of them.
You can use audience analysis by Hyperauditor and Influencer marketing hub as another form of checking accounts and detect fake interactions. Together with these tools there is also free Socialbladewhich can show you important data regarding number of followers and average involvement. Hyperauditor is on another hand a paid, quite expensive program working with artificial intelligence.
Something is not right…
Be alert if you notice a strange ratio between followers and number of likes. The likes under a post are usually about 3 - 10 % of the followers. Sometimes it can be more if the post is more popular or uses paid promotion. However, if the ratio does not seem right on more posts, the likes might be paid for.
Another good indicator of audience quality are comments below posts. If an influencer with 100k followers has only two comments below their posts, it means the followers do not care about the content or there are no actual followers. Reading through comments is the best way to check followers' quality on your own "by hand".
Based on the comments below posts you find out who gets involved in conversation with influencers and who are the people they have effect on. Be wary of users without profile photos, without any posts or careful about emoji onlyi comments. These are probably paid for. The real comments usually spark discussion where people share their opinions, reviews and experiences. Avoid empty comments with no value.
Here is an example of fake comments: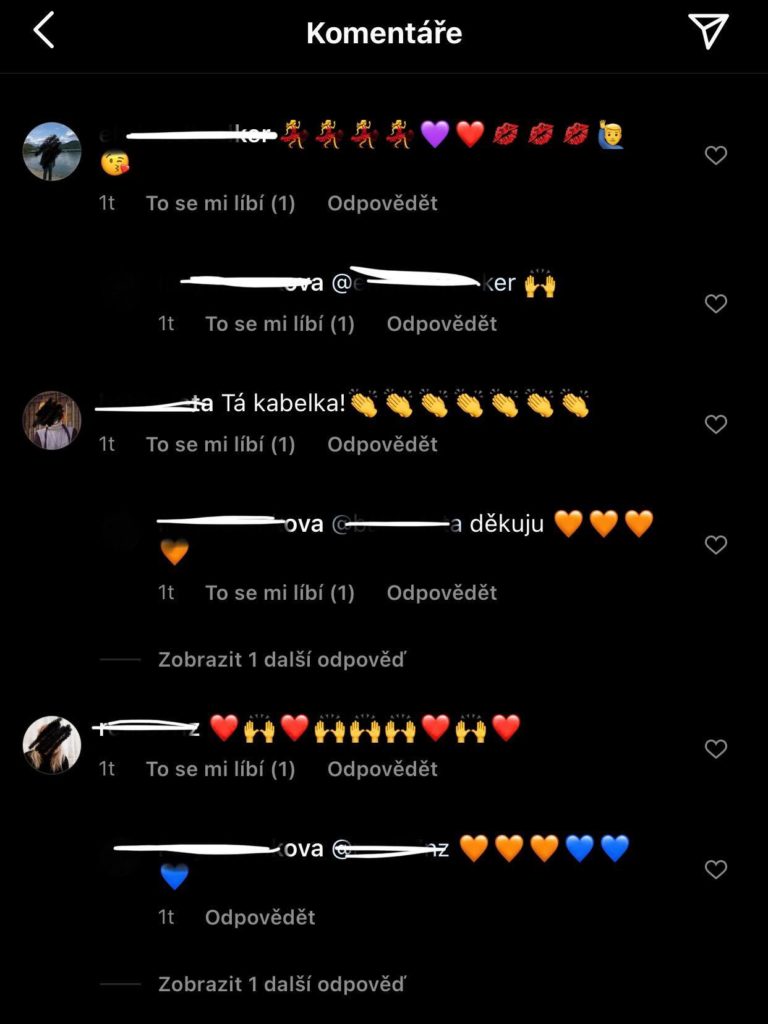 Last red flag is very general comments by the same profiles. These are so-called engagement groups which focus mainly on the beauty and mama bloggers sphere. They are chats where you need to fulfil certain conditions (such as follow for follow). Then your profile becomes part of the group which "supports" posts using their hashtag aka free engagement - which in reality is not engagement at all. This topic is very broad so if you would like to know more about it, have a look at Cestuj za babku blog and read this article on engagement groups .
Is the influencer going to be interested in collaborating?
Now you know your chosen influencer is not fake. If you don't follow the influencer for some time already, you should get to know them before you approach them. The best would be to follow them for a few weeks, see their posts and stories. But there might not be space for that every time.
If you want to work effectively, you can just do a quick run through the content of the influencers: it is good to go further than the first page and read comments containing their views and opinions on different topics. Try to look at their style of expression and other collaborations they were part of in the past.They might have collaborated with your competition. This way you can find out more about them and make sure if your first impression of them was right.
You should be checking the location of followersas well especially if the influencer has less than 100k followers. It can be determined where the influencer is from (or what places they frequently visit) based on the location. If you have a local business, ask for their "follower composition"to conclude if it makes sense to collaborate with them. The influencers have most likely business profiles and use analytics which can tell you if they are followed by the people from a town you want to target.
You have checked the followers and the interests of the influencer. You are ready to get in touch, but how do you do that?
How to approach influencers?
"Hello, we like your profile on Instagram/ your YouTube channel…" is not the best way to start, even though it is still widely used. Make the message personal and tell the influencer what you liked specifically regarding their work and why you would like them to represent your brand. It takes more time but if the influencer is desirable, it is a good way for you to stand out from all the other offers.
Besides the personal message you need to consider the platform where you are approaching them. You can do so on Lafluencemarketplace, email or Instagram. Each of them has its advantages. Instagram is a bit difficult (the influencers get tens to hundreds of messages a day), but once your collaboration is long term, your communication is much faster as it is in the form of a chat.
Email is an official approach in which the influencer will expect your specifics of the collaboration including all the details, budget and outcomes. Make yourself an influencer brief, a document with all the important information the influencer might need for making the decision. You can expect an answer in a matter of days or weeks. 
I wish you good luck with audience analysis and approaching the influencers! In the next part we are going to look at how to agree on collaboration conditions with an influencer, controlling the process and evaluation of the collaboration. What are the key parts you need to have under control, how to nail tagging and campaign evaluation. Till the third part of the influencer marketing series, good luck.